Financial Modelling & Valuation
Build your own Financial Model & DCF Valuation from Scratch in a 15 days!
Analyse the business and identify the key financial and operating metrics
Identify the key drivers in each business and forecast financial statements
Learn the process of rationalizing your assumptions used in the financial model
Build a Discounted Cash Flow model to value the business like a professional
This Course follows a Hybrid Learning Model
Pre-recorded Video Lectures for self-paced learning

In the video lectures, we will make the model of a listed Indian Technology Company.

As assignment, you will be making the model for another company in the same sector

Regular live interactive sessions for doubt solving, engagement and aiding your assignment completion.
​​
This model of learning leads to better student engagement as well as higher completion rate for the course.
Special Discount on Course Fees of Rs. 2,999/-
Upcoming Batch starts on 20th March, 2021.
Forecasting Financial Statements
---
- Identifying key drivers - Using the drivers to forecast financial statements - Debugging the model
---
Historical Financial & Operating Data
---
- Correct sourcing of financial data and figures - Sourcing Operational Data - Conversion to correct units - Best Practices for Data Input
---
Rationalizing Input Assumptions
---
- Process of rationalizing assumptions - Building real world scenarios into assumptions - Assumption Best Practices
---
Customizing the Model Template
---
- How to start building a model template from scratch - Customize the line items in the model to suit the business - Identifying the material line items and dealing with non-material line items - Operating Data metrics - Working notes for the Model
---
DCF Valuation
---
- Conceptual Framework of a DCF Valuation - Building a DCF Model - Proper assumptions in a DCF Model
---
Understanding the Business Model
---
- How to research about a business - Understand the key financial metrics - Identify the key operating metrics
---
Case Study
---
- Indian Technology Company 1 - Covered in Video Lectures - Indian Technology Company 2 - Covered in Assignment & Assignment Solutions
---
---
Video Lecture 1 Available
Video Lecture 2 Available
Break Day
Use it to finish Assignment
Live Doubt Solving Session
8 pm - 9 pm
Break Day
Use it to finish Assignment
Live Doubt Solving Session
8 pm - 9 pm
Video Lecture 7 Available
​
Live Doubt Solving Session
8 pm - 9 pm
Video Lecture 5 Available
Video Lecture 6 Available
Break Day
Use it to finish Assignment
Video Lecture 3 Available
Video Lecture 4 Available
Break Day
Use it to finish Assignment
Mega Webinar
3 pm to 6 pm
Profiles where Financial Modelling is a pre-requisite
Who is this course suitable for?
Students Aspiring For Finance Jobs
Students pursuing
​
B.Com / BAF / BMS / BBA / BFM / BIM
MBA / MMS / PGDM / MFin
B.Sc. Fin / B.Sc. Eco / BA Eco
Professional Course Students
Students pursuing
​
CA / CS
CFA / FRM / CAIA
CWM / CFP
​
Young Working Professionals
Professionals working in
​
CA / Consulting Firms
Broking & Investments
Accounts & Audit
Lending & Financial Services
The Discounted Price is available for limited time only
Upcoming Batch starts on 20th March, 2021.
Companies where our Students Work...
Students Love Us!
​
We have a perfect rating on Google
​
We also have hundreds of positive reviews and feedbacks on LinkedIn.
Lock in 60% Discount on course fees of Rs. 2,999/- now
Upcoming Batch starts on 20th March, 2021.
B.Com., MBA - NMIMS Mumbai

Co-founder - Pararthya Capital, provides equity investment advisory to clients

Has been a portfolio manager for over 6 years

Ex - Tata Capital and Dolat Capital

The instructor has been a visiting faculty at various prestigious education institutions including NSE Academy, NMIMS, DSIMS, etc.
Frequently Asked Questions
Apa itu waitlist challenge?
---
Sebuah periode di mana kamu berkesempatan untuk mendapatkan akses eksklusif lebih cepat ke aplikasi Nanovest, dan juga mendapatkan rewards yang menarik! Kamu bisa menang 100.000 NanoByte Token (NBT) dalam periode ini. Kunjungi nanobytetoken.io untuk pelajari lebih lanjut mengenai NBT.
---
Apa itu NanoByte Token (NBT)?
---
NBT adalah crypto token dari Nanovest. Kamu bisa dapetin NBT dengan download Nanovest & ikutan waitlist challenge. Selain itu, kamu juga bisa dapet NBT dengan ngelakuin berbagai aktivitas dan transaksi setelah kamu dapat full access ke semua fitur di Nanovest.
---
Kapan saya bisa mulai investasi saham & aset kripto di Nanovest?
---
Saat ini, aplikasi Nanovest sedang dalam rilis terbatas. Kamu bisa mulai investasi setelah kamu dirilis dari waitlist. Kami akan memulai proses rilis pada 10 Desember 2021. Semakin tinggi posisimu di waitlist challenge, semakin cepat kamu dirilis & bisa menikmati seluruh fitur di Nanovest! Ayo download Nanovest & join waitlist sekarang dan jadilah yang pertama untuk nikmati semua fiturnya!
---
Apa itu Nanovest?
---
Nanovest adalah aplikasi investasi revolusioner di Indonesia. Di sini, kamu bisa investasi saham luar negeri & aset kripto dalam satu aplikasi, pertama di Indonesia. Selain itu, kamu bisa transfer uang gratis ke siapa pun & kapan pun! Semua investasi di Nanovest mulai dari Rp 5ribu aja, bebas biaya transaksi, dan tentunya gampang banget. Kamu juga bisa dapetin berbagai hadiah menarik, mulai dari uang, aset kripto, dan masih banyak lagi. Jadi, yuk download Nanovest & ikutan waitlist sekarang!
---
Sampai kapan waitlist challenge akan berlangsung?
---
Waitlist challenge dimulai pada 22 November 2021 dan akan berakhir pada 10 Desember 2021.
---
Apa yang terjadi ketika saya masih berada di dalam waitlist?
---
Kami berusaha keras untuk menghadirkan Nanovest secepatnya kepada kamu. Kami akan merilis semua user secepat mungkin, dan tentu saja kamu akan diberi tahu jika sudah dirilis! Penasaran dengan aplikasi Nanovest? Yuk, intip lebih lanjut di bagian "News" di halaman Utama aplikasi Nanovest
---
Bagaimana cara kerja waitlist challenge?
---
Setelah kamu daftar ke Nanovest, kamu bisa lihat posisimu di waitlist / daftar tunggu. Ajak teman ke Nanovest sebanyak-banyaknya pake kode referral kamu. Saat temanmu daftar ke Nanovest pake kode referralmu, posisimu di waitlist akan naik. Kamu dan temanmu juga akan dapat masing-masing 20 NBT.
Selain itu, kamu juga bisa menang 100.000 NBT tergantung dengan posisimu di akhir periode waitlist challenge (lihat tabel di bawah):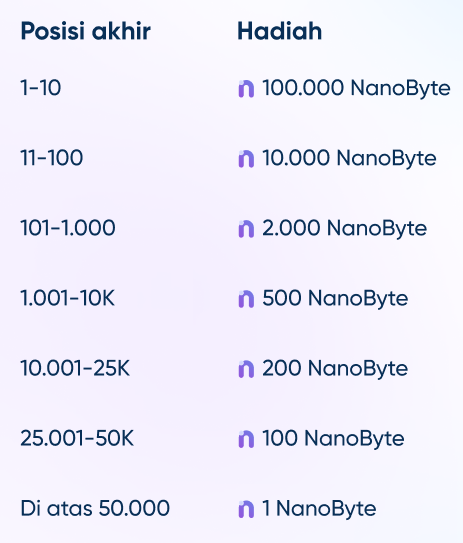 ---
---